The National of Abu Dhabi reports "How the UAE plans to become a leading space power in the region".
The global rise of the private space sector has helped show how governments cannot go it all alone when reaching for the stars and it is no different for the UAE.

Over the next decade, the Emirates plans to invest more than Dh3 billion ($816 million) in the private space sector to grow the country's capabilities in space.

Economic zones dedicated to space activities will be set up across Abu Dhabi, Dubai and Sharjah to allow start-ups and established businesses to set up operations.

Officials hope this would help the country become a major space power in the region, with a well-developed ecosystem consisting of public and privately led projects — similar to how Nasa has harnessed the power of the thriving privately owned space companies in the US.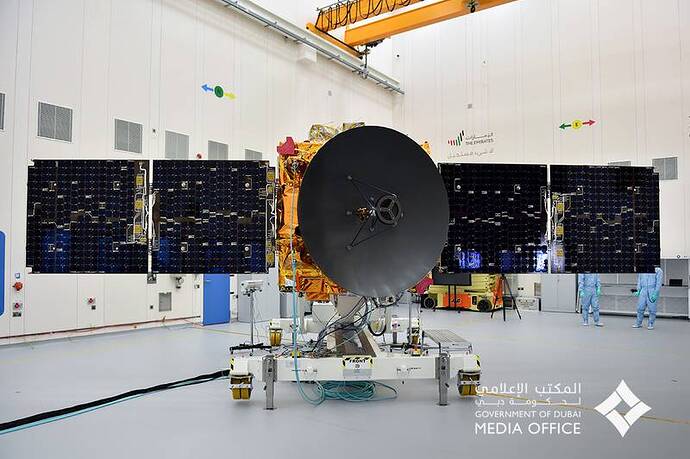 (
Emirates "Hope" Mars Mission
spacecraft)
The UAE's next big space mission, a spacecraft that would explore seven asteroids and perform a Venus fly-by, will be built mostly by the private sector.

It will be a defining moment for the country's ambitions of a well-established private sector, as well as pave the way for future and more complex missions.

It is also hoped that more local companies that do not cater to the space sector would start getting involved as they did with the Mars mission.

The Mohammed bin Rashid Space Centre, an organisation in Dubai that has executed the UAE's leading space missions, is working with companies on its upcoming Earth-imaging satellite MBZ-Sat.

Amer Al Sayegh, project manager of the satellite, said 90 per cent of the satellite's parts would be built locally.