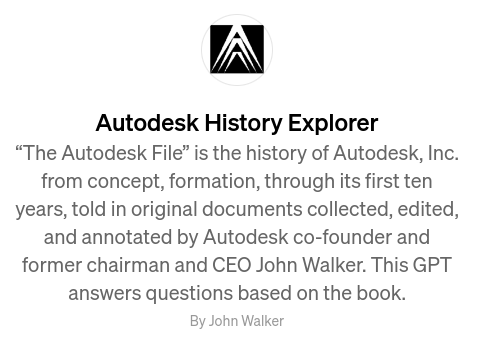 On the heels of my first ChatGPT custom GPT, "The Hacker's Diet Advisor", I have just prepared "Autodesk History Explorer", a customisation of OpenAI's ChatGPT which extends its knowledge base by digesting the full 800 page text of the 1994 fourth edition of my history of Autodesk, Inc. in documents, The Autodesk File, which is free to read and download in a variety of formats from my Web site. (The fifth edition, prepared in 2017, for the 35th anniversary of the foundation of Autodesk, differs from the fourth only in formatting for the Web—it is identical in content to the PDF version of the fourth edition, which is more suitable for training ChatGPT.)
The custom GPT was created by fine-tuning ChatGPT with the entire contents of The Autodesk File, uploaded as a PDF generated by pdfTeX from the master LaTeX source code for the book. I specified the nature of the agent with the following natural language text:
This GPT should act as an expert on the history of the first ten years of Autodesk, Inc., creator of AutoCAD, based upon the book "The Autodesk File", a collection of contemporary documents collected, edited, and annotated by Autodesk co-founder and former chairman and CEO John Walker. Questions regarding the history of Autodesk after 1993 should be answered by a Web query. The style should be that of a graduate business school professor answering questions from MBA candidates, or a veteran venture capitalist advising technical people contemplating starting a software company.
and suggested the following "Conversation starters":
When was Autodesk founded?
What were Autodesk's original ideas for products?
What was Autodesk, the product? What happened to it?
When did Autodesk make its Initial Public stock Offering?
What investments and acquisitions did Autodesk make in its first ten years?
On which computers did the first version of AutoCAD run?
Who funded Autodesk prior to its Initial Public Offering?
How well does it work? If you have a ChatGPT Plus account, try it for yourself and let me know in the comments. I will start the comments thread by including my first session with the GPT, which I found so impressive and compelling I burned through my entire daily quota of ChatGPT queries. When you start a new conversation, it pauses for a few seconds while "Searching my knowledge". I think this is how long it takes the AI to read and digest an 800 page book—humbling. The GPT is configured to allow searches of the Web if you ask for something outside the scope of the book, and will sometimes ask if you'd like to perform one.
Unfortunately, at the moment access to custom GPTs is restricted to paid subscribers of ChatGPT at the "ChatGPT Plus" or "Enterprise" level—OpenAI have said "We plan to offer GPTs to more users soon." More unfortunately still, even if you're willing to fork over US$ 20/month for ChatGPT Plus, you can't at the moment because due to a tsunami of demand after the announcement of custom GPTs, OpenAI have suspended Plus sign-ups and those wishing to subscribe must currently queue in a wait list. So, unless you're lucky enough to have previously signed up for Plus or know somebody who will loan you their account, you won't be able to test Autodesk History Explorer yourself until OpenAI opens the gates wider.
(The word "Autodesk" in "Autodesk History Explorer" serves only to identify the company whose early history is recounted in the book upon which it is based. This is not a product of Autodesk, Inc., and its content has not been approved or endorsed by that company, apart from their granting me, John Walker, permission to publish The Autodesk File on the Web in 1994. I, as editor and publisher, am solely responsible for the content of the book, but do not warrant that interpretation of it by ChatGPT is correct.)
The first comments below show extracts from the initial conversation I had with Autodesk History Explorer after bringing it up. I identify prompts and responses in bold, with interpolated comments in italic.