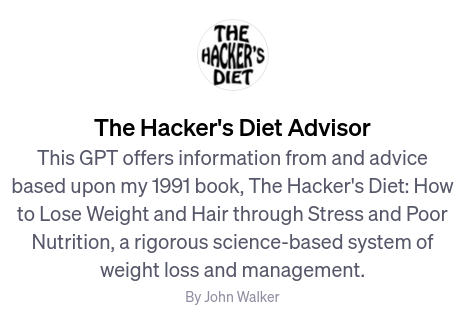 As described in the my 2023-11-07 comment on "Generative Artificial Intelligence, Large Language Models, and Image Synthesis", the "OpenAI Dev Day" presentation the day before introduced the ability to create "Custom GPTs", which specialise ChatGPT for developer-defined knowledge domains and applications, presenting information in the same natural language chat format as the general-purpose ChatGPT, and, at the developer's option, allow access to resources on the Internet and the DALL•E image generator.
As one inclined to jump headlong into any new technology without looking first whether it's a warm and welcoming swimming hole or the input hopper of a tree chipper (think WordPress), I have created a custom GPT of my own, called "The Hacker's Diet Advisor", which you can access by clicking the link. At the moment, either creating or using GPTs requires a paid subscription to ChatGPT at the "ChatGPT Plus" or "Enterprise" level—OpenAI have said "We plan to offer GPTs to more users soon." This is currently a "semi-public" GPT—you can access it only by following the link above.
The GPT was created by fine-tuning ChatGPT with the entire contents of The Hacker's Diet book, uploaded as an OpenDocument Format .docx file created with LibreOffice Writer with the intent of creating a native Kindle edition of the book. In addition, I described the nature of the agent with the following natural language text:
The GPT should act as an expert advisor and coach for readers of The Hacker's Diet or those interested in its principles, providing information from the book as well as resources expanding upon the topics it discusses, including feedback theory, thermodynamics, balanced nutrition, exercise, and long-term management of weight.
and suggested the following "Conversation starters":
Have you read the Hacker's Diet book?
Have you had difficulty maintaining a steady weight or lost weight and then gained it all back?
Why does a person gain or lose weight?
Why do daily weights from a scale jump all around? How do you interpret these figures?
How can I plan meals to achieve weight loss on a schedule I set?
What role does exercise play in weight management and health?
Will I be hungry? How do I best deal with that?
How do I maintain a steady weight once I reach my target?
How well does it work? If you have a ChatGPT Plus account, try it for yourself and let me know in the comments. I will start the comments thread by including my first session with the GPT. When you start a new conversation, it pauses for a few seconds while "Searching my knowledge". I think this is how long it takes the AI to read and digest a 172 page book—humbling.