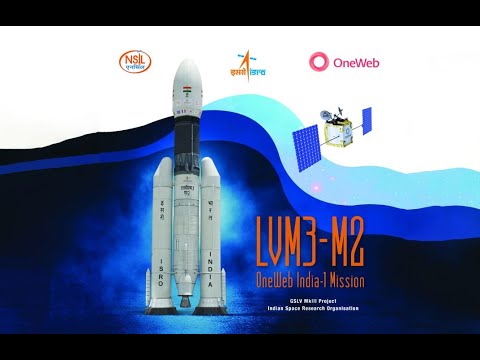 The Indian Space Research Organisation (ISRO) plans to launch a GSLV Mk III rocket on 2022-10-22 at 18:37 UTC to place 36 OneWeb Internet communication satellites into a 1200 km polar orbit. Launch will be from Launch Pad 2 at the Satish Dhawan Space Centre, Sriharikota, India.
This will be the first OneWeb launch since the Arianespace Soyuz VS27 mission on 2022-02-10, after which the Soyuz launch contract was terminated due to sanctions against Russia after the Ukraine invasion. This will be the first OneWeb launch by India. OneWeb has also contracted for launches with SpaceX. This is the 14th operational OneWeb launch and will bring the number of satellites launched into the constellation to 454. The full constellation is planned to include 648 satellites: 600 providing global coverage and 48 on-orbit spares. OneWeb has an application pending with the U.S. Federal Communications Commission to expand its constellation to 48,000 satellites, with the second generation satellites doubling as a global navigation satellite system.
GSLV is short for "Geosynchronous Satellite Launch Vehicle", but in this mission it is delivering its payloads to low Earth orbit. This is the launcher ISRO plans to use for crewed missions when they begin.