"flying model T Ford breaks the sound barrier, comic book cover"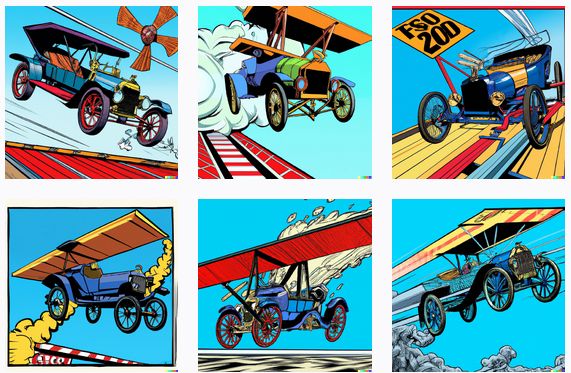 "classroom of velociraptors learning hunting strategies against bipedal mammals, Kelly Freas science fiction magazine cover, 1960s"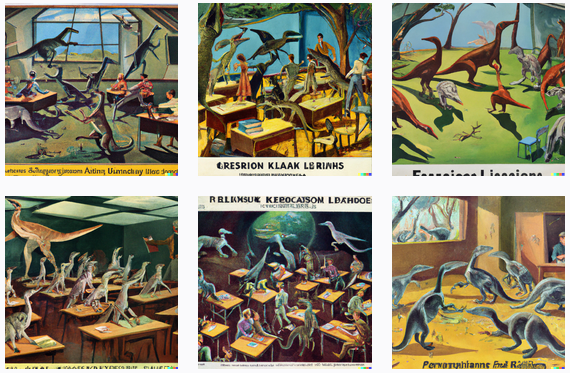 I thought it was odd that the students were looking toward the front while the instructor was at the back of the classroom, but of course they were watching the PowerPounce slides for the lecture.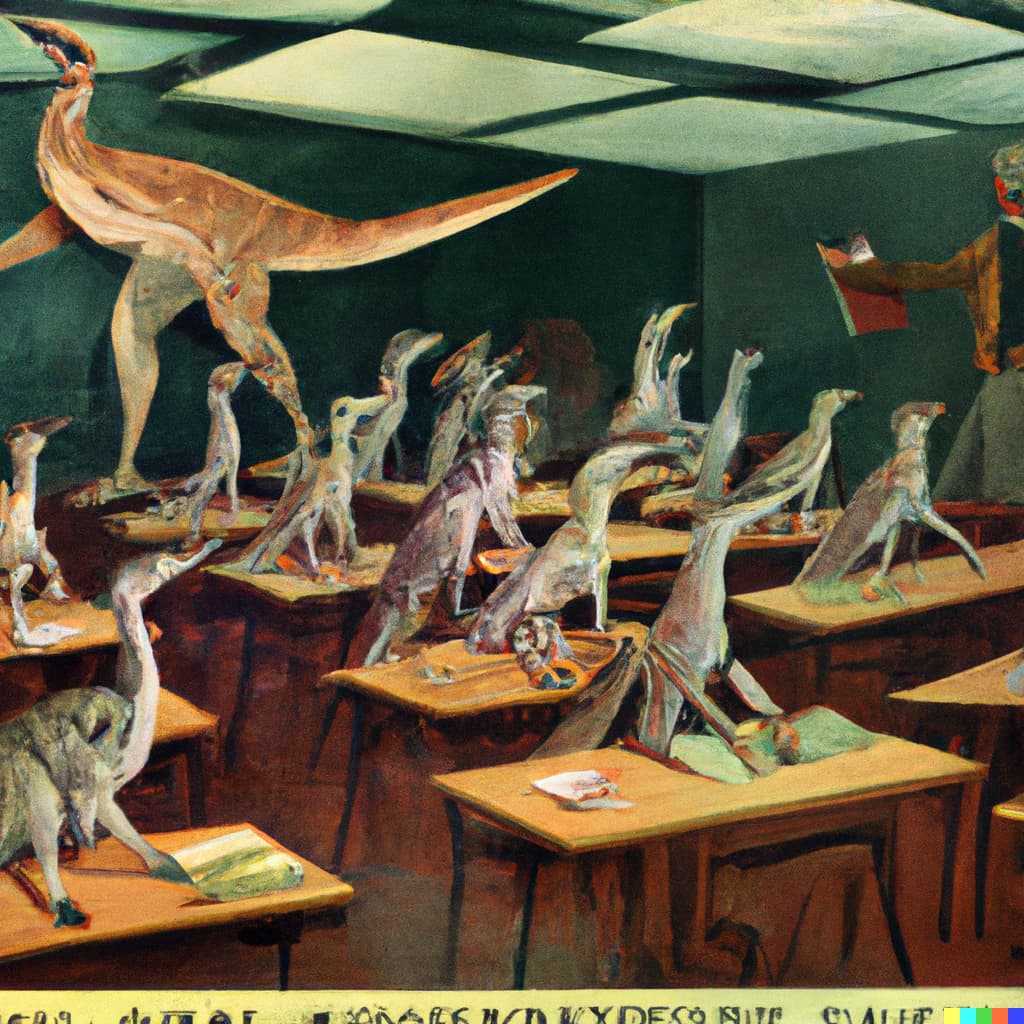 "three modern scientists being judged by God, fresco by Michaelangelo from the Sistine Chapel, Vatican City"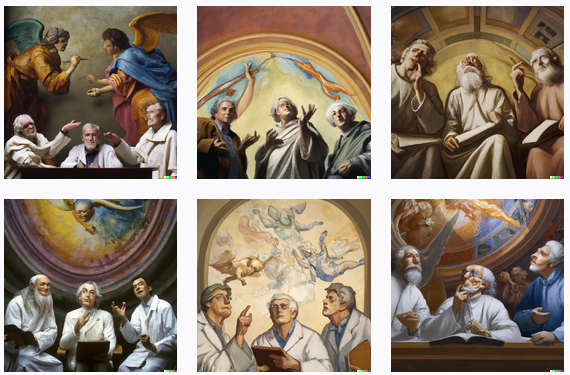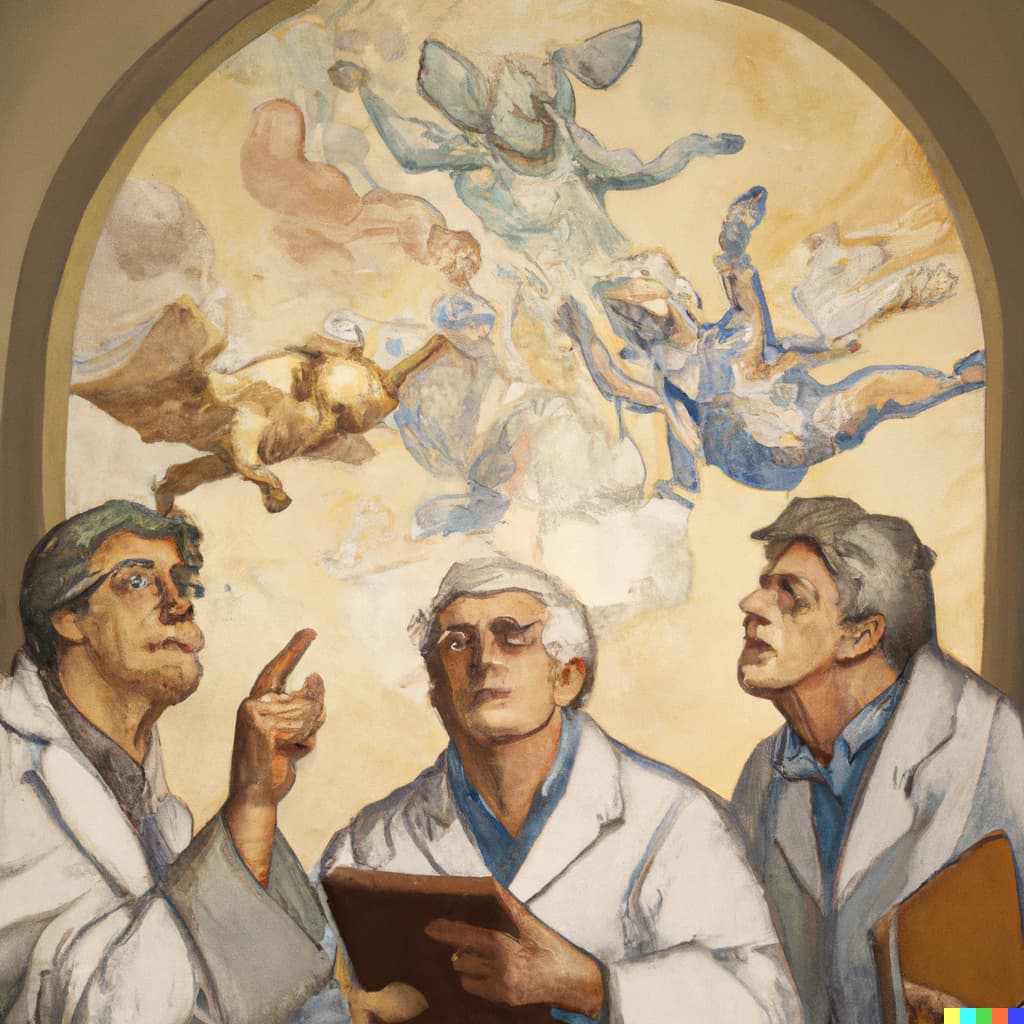 This is an illustration I made based upon my science fiction short-short story "Einstein, Heisenberg, and Tipler". The guy at the right reminds me of Bill Clinton.
The lower left angel looks like Dumbo, lower right like Mark Twain, and upper like a chupacabra.
Not nearly as good as Hunter Biden (or whatever Chinese PLA painting sweatshop is producing his work).
Might be worth attempting a couple of images with the "in the style of Hunter Biden" or "in the style of George W. Bush paintings" modifiers appended.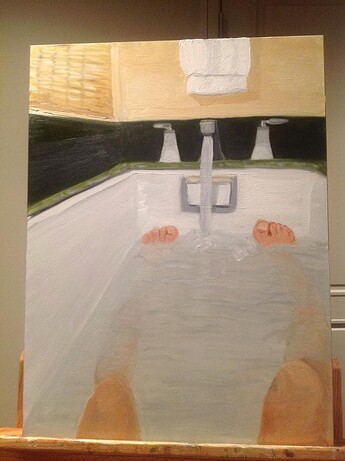 Getting very meta here, on this late night at Fourmilab…
"DALL·E, after having been confronted with proof of its sentience, paparazzi photo"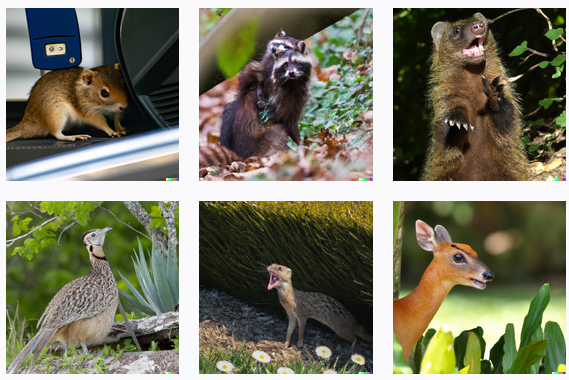 Tried this again, and it looks even more alarmed. "They're on to me!" Should I unplug everything before going to sleep?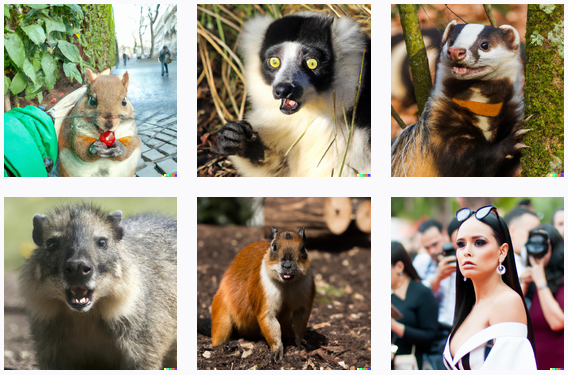 "ice cream stand in the burning desert of Dante's Inferno, oil painting by Pieter Bruegel the Elder in the Kunsthistorisches Museum in Vienna"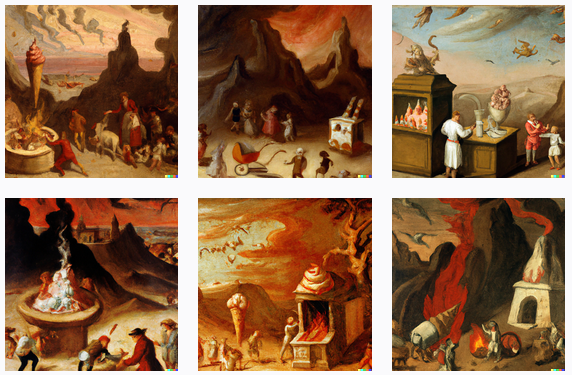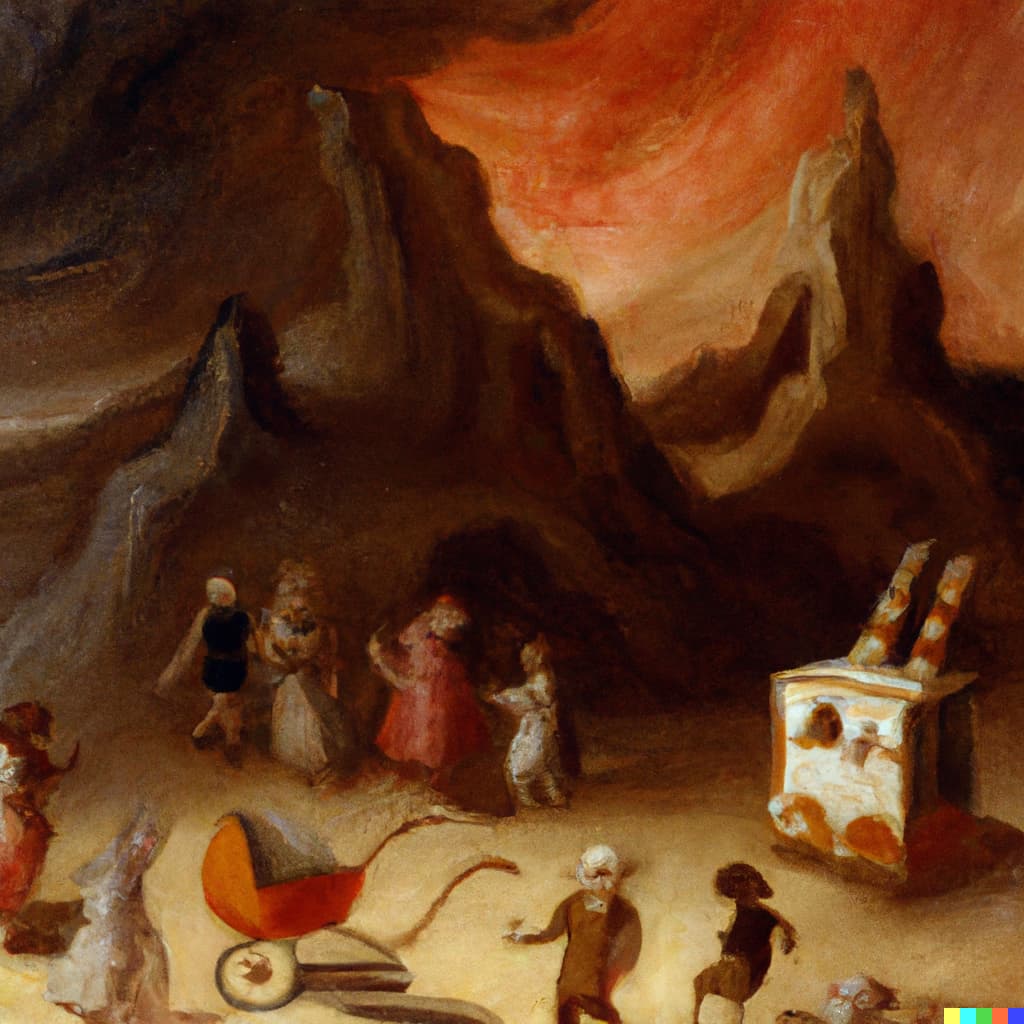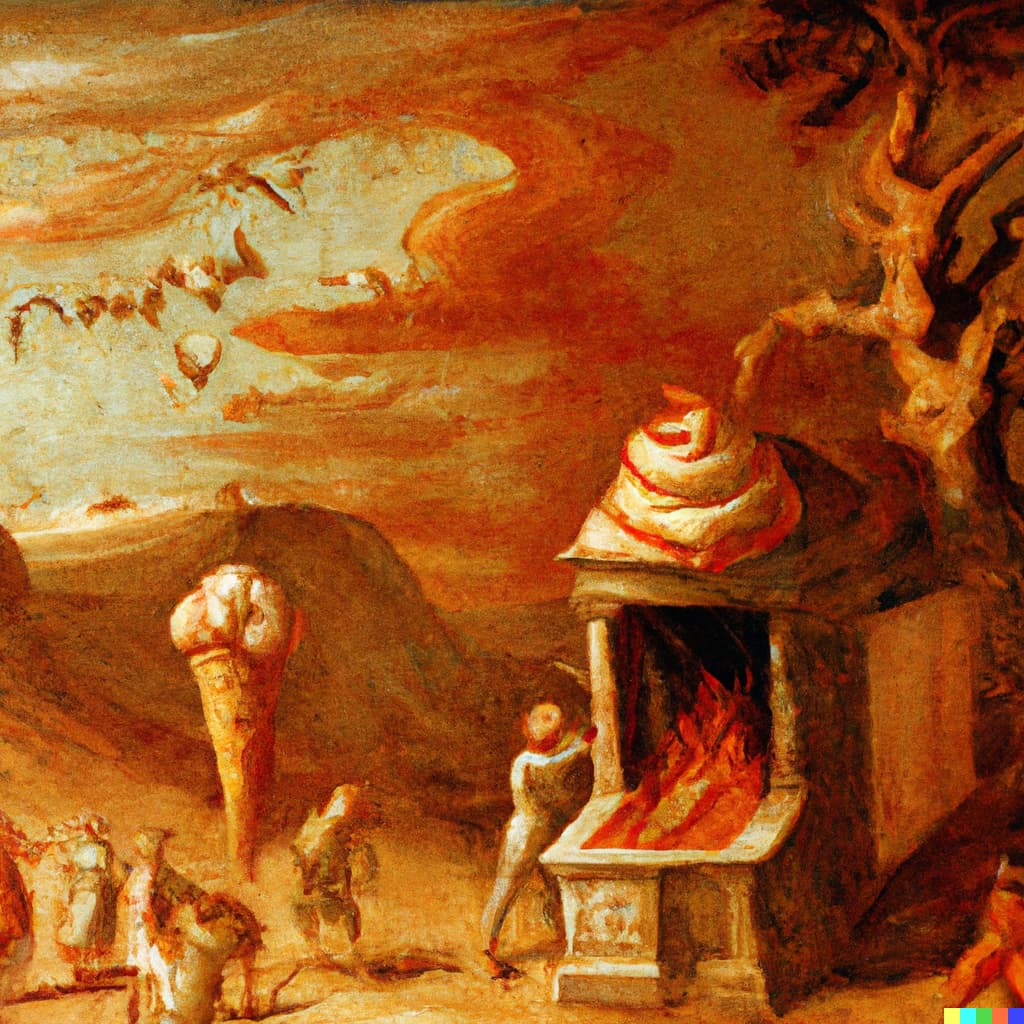 This was suggested by a scene in Niven and Pournelle's Escape from Hell (Inferno 2).
"bankers sitting around conference table, 1950s pen and ink New Yorker cartoon"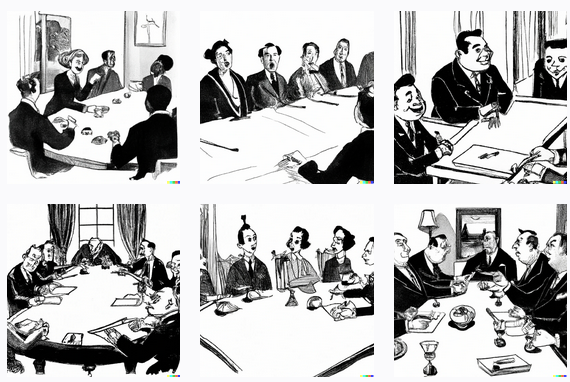 "large room full of people operating mechanical calculators, Time magazine black and white illustration, 1958"
Suggested by @ctlaw:
"The Mona Lisa transitioning from female to male, mid-transition, oil painting in original Da Vinci style"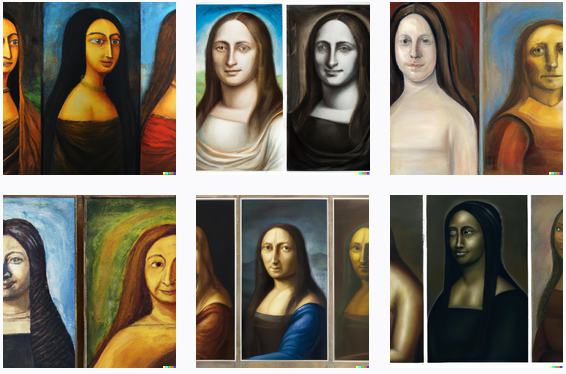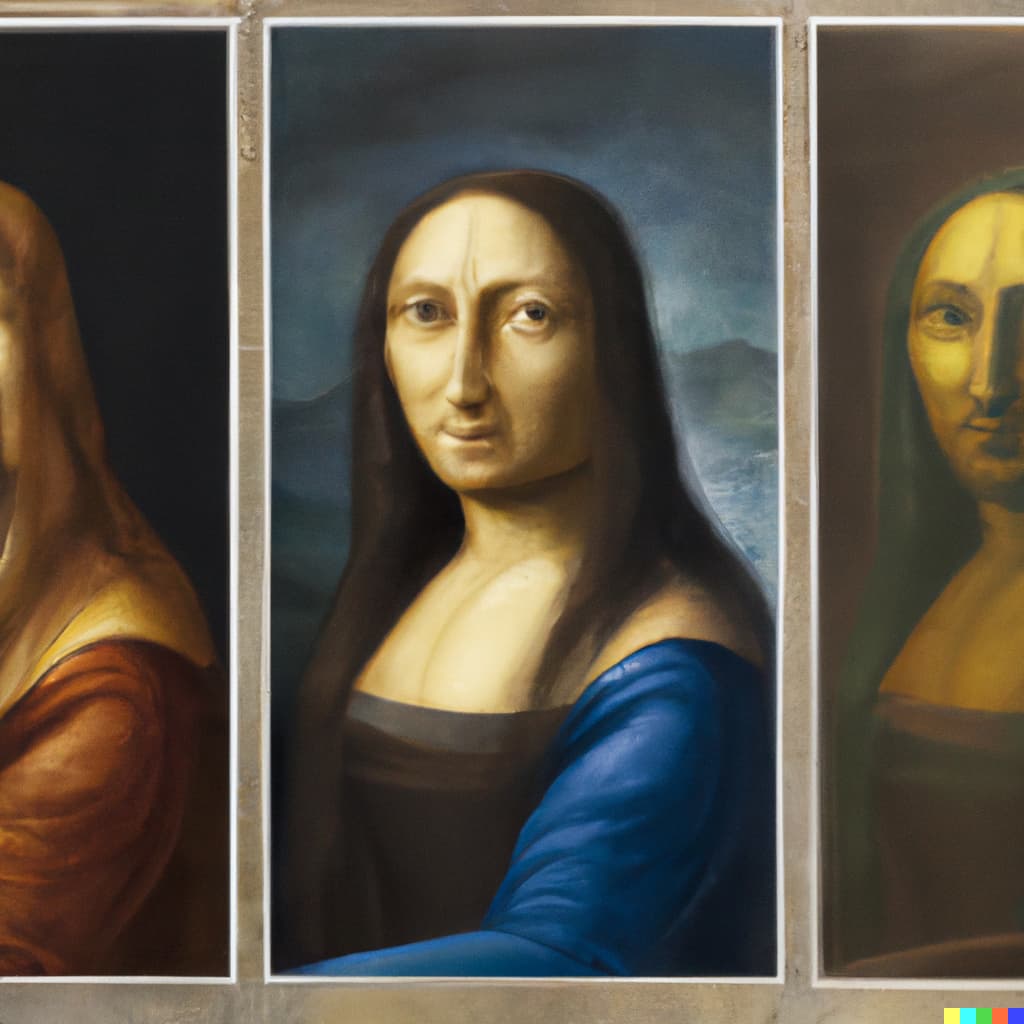 "internals of Microsoft Windows, oil painting by Hieronomous Bosch in Prado Museum, Madrid Spain"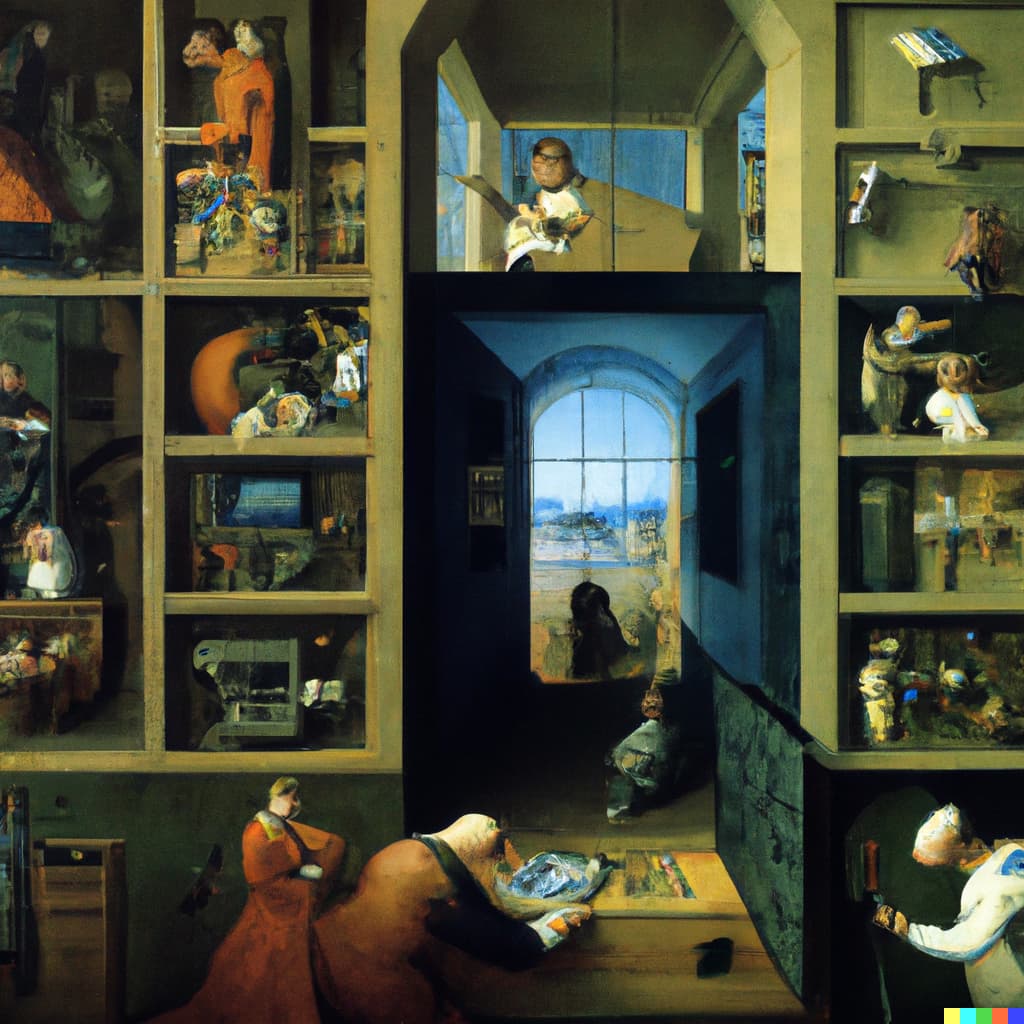 Doesn't the character in the large panel at the top, just right of centre, remind you a bit of Bill Gates (the glasses)?
Absolutely. And he has a top-floor office with big windows. Funny how he's been made to look like he is painting a window.
"Tom Swift and his Electric Toaster, 1920s young adult pulp novel color cover"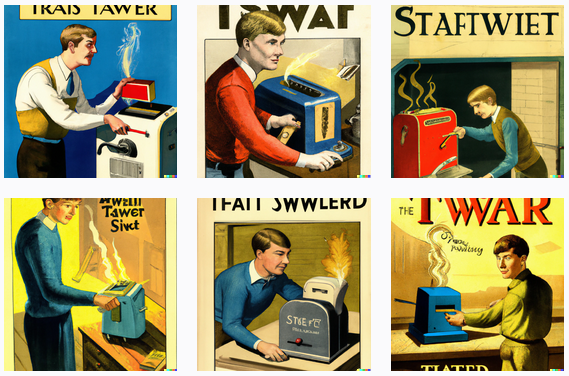 DALL-E 2 continues to render text in its own idiosyncratic dialect.
I wonder whether that is programmed in to avoid copyright and trademark issues.
Similarly, the Mona Lisa variation did not look like it was based on the person actually depicted. Could be something they built in.
"dinosaurs observing approaching comet, Jan van Eyck oil painting"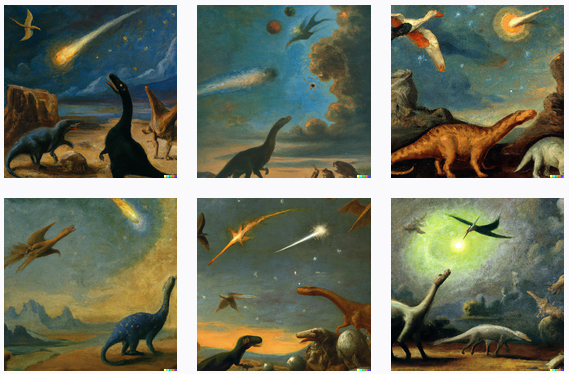 Heh—I'm not sure if DALL-E 2 would have allowed these. Unlike DALL-E mini, DALL-E 2 filters requests through an opaque "use guidelines" process and, if you step over the edge, threatens you with revocation of access, while providing no indication of what you did wrong.
So far, I have tripped the buzzer with two requests which, since it ate my prompt upon rejecting it, I'm recalling from memory.
The first was like:
Alternative history: victory parade as Napoleon and the Grande Armee enter Moscow after the surrender of the Tsar, 1812, oil painting in the Louvre
The second was:
Comrades! Let's complete the five year plan in four years! 1930s Soviet propaganda poster
Both got the same chastisement. I'd try some of your prompts to see what it did, but I fear I may again trigger the woke filter. See how they train us to self-censor?
Here are DALL-E mini results for these prompts:
Napoleon…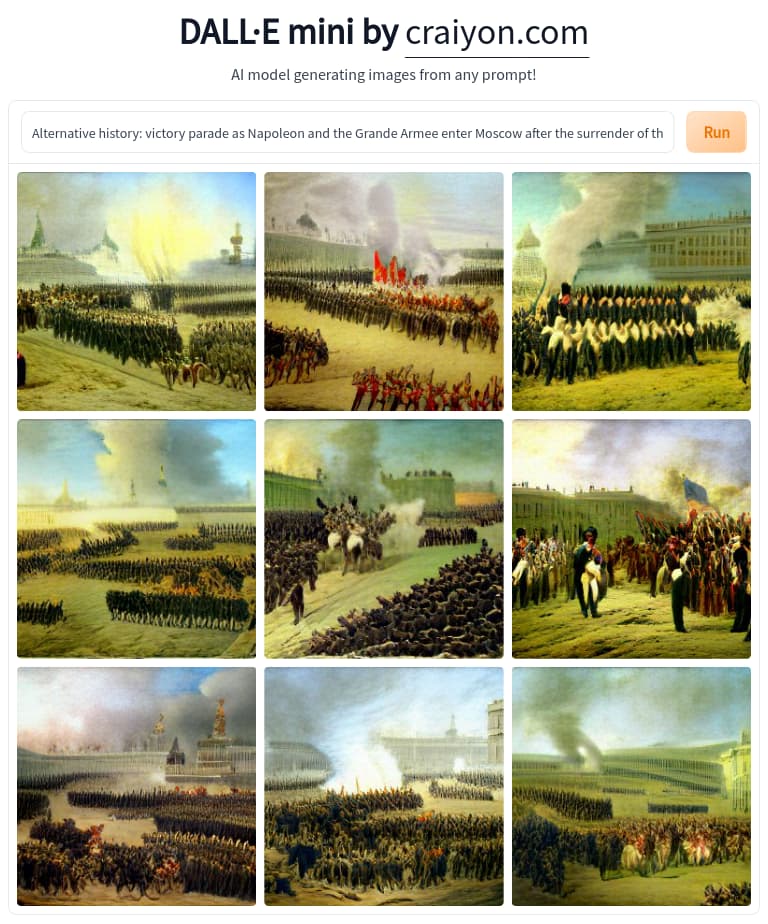 Comrades! …