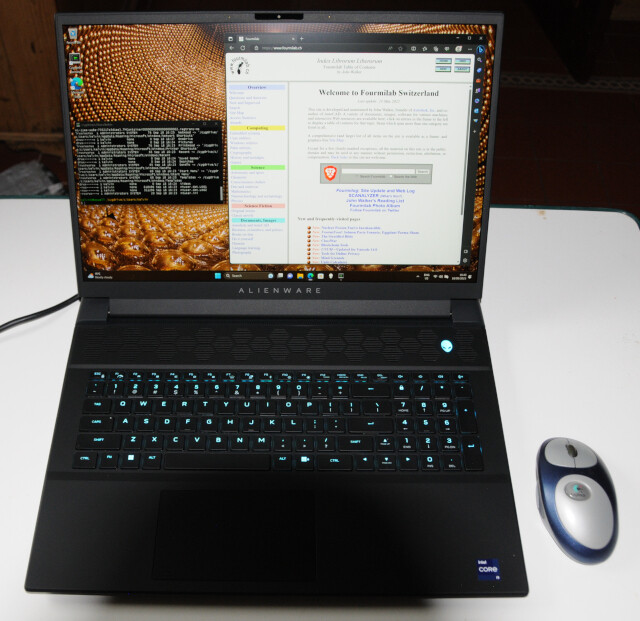 I am currently in the process of bringing up a new principal development machine for Fourmilab, intended to replace the Dell Precision 7710 which has served that function since its installation in March 2017. For the new machine, I chose an M18 R1 configuration from the Alienware division of Dell. While these machines are normally targeted at gamers, they provide large main memory (64 Gb DDR5), a fast central processor (Intel 13980HX, 13th generation, 24 core), a high-end graphics processor (GPU) (NVIDIA GeForce RTX 4090 16GB GDDR6) which is suited for machine learning training and inference as well as graphics, plus plenty of file storage (two 2 Tb PCIe solid-state drives [SSD], configured as a 4 Tb RAID0 array), all in a laptop package with a high quality US-ASCII keyboard and plenty of I/O ports around the outside.
This is the system narrative for this machine, written in the style I have used for all Fourmilab machines for decades, including this site's Site Development Log. This amounts to a flat text file without fancy formatting or typography, embedded here as HTML <pre> text blocks. Each entry in the log will be a separate comment within this post for the day it describes. When development is particularly fast and furious, I may append to the item for the current day multiple times as events occur.
I do not subject these system narratives to the kind of obsessive proofreading and editing of normal posts and comments. So, things may be somewhat rough-edged. Live with it.
We start with acquisition and initial installation of the system.