This article discusses the curious case of the disappearing flu, which had its typical season cut short in March 2020 as COVID-19 emerged and as been very nearly absent since.
"The flu is gone. This is not an illusion. It's not down to the wilful or mistaken misdiagnosis of Corona or anything like that. Most countries have long-standing influenza surveillance programs, entire offices of people whose job it is to find and track the flu. These programs are still running, and influenza tests are still widely administered across the world. Despite all of this searching, nobody can find anything but a few outliers. As a seasonal phenomenon in the northern and southern hemispheres, influenza has disappeared."
(The Disappearance of Influenza - by eugyppius - eugyppius)
COMMENT: In support of that, here's a plot that displays flu cases (top) and tests (bottom) for the United States as reported to the WHO's Flunet database.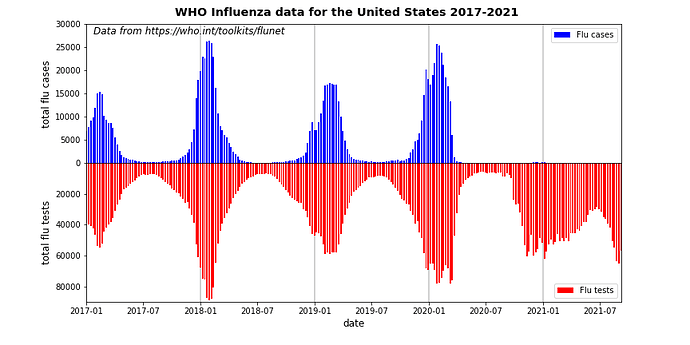 "Everything suggests that Corona has displaced influenza. Even if we can't identify or even really conceive of the mechanism, Corona begins to resemble an invasive species that has disturbed the ecology of human-infecting respiratory viruses. Nobody will talk about this, because they are eager to claim any victory they can for mass containment. The absence of flu must be ascribed to lockdowns, even though flu is gone even in countries that have not locked down."
COMMENT: Well, it clearly wasn't masks or social distancing, either. Why didn't both work on Corona?
"Someday we will awaken from the Cult of Mass Containment with a greater openness to observing the world as it is. We will notice that reports of allergies and asthma have grown much less frequent, and that masks aren't really a plausible explanation for this. We'll notice that almost no children are dying of seasonal respiratory illnesses for a change, and we'll notice that seasonal Corona mortality has to be weighed against the missing deaths of seasonal flu. We'll notice that, with every passing month, Corona grows less deadly, as resistance in the population grows, and we'll begin to ask ourselves how the unstated policy goal of eradication is even remotely sensible. Destroying Corona would almost certainly mean bringing back influenza A, after much of our immunity has faded."
COMMENT: 'Someday we will awaken'. Heaven loves an optimist.