Speaking of comfort food:
Speaking of chorizo:
As Europeans this summer struggle with extreme heat and rising energy costs, Spain issued a decree this week requiring air conditioning in public spaces be set at or above 27 degrees Celsius (80 degrees Fahrenheit). The measure will apply to offices, shops, bars and restaurants, as well as public transport systems and transport centers.
The guidelines also include keeping heating at or below 19 degrees Celsius (66 degrees Fahrenheit) in the winter.
The decree was part of a bill passed by the Spanish government Monday in a bid to reduce the country's gas consumption by 7%, in line with the recent European Union energy agreements to limit dependency on Russian gas.
Spain's decree will remain in place until at least November 2023.
Heck, I already have my thermostat set at 80. Anything less is like walking into an icebox from outside.
Uri Geller buys a Scottish island:
How many Twitter "news stories" are really just "glorified sausage" sales pitches ???
As a TWTR sharehoder I have right to know!
This has been previously reported, it appears that upon his first passing, Al Zawahiri revived and was promptly killed again. Might be a glitch in the simulation? This video might be worth saving in case the glitch is fixed.
Mexico, the world's largest beer exporter, should stop making the drink in the north of the country as the region faces severe water shortages, President Andres Manuel Lopez Obrador said Monday.
A behavioral profile of monkeypox patients in Spain: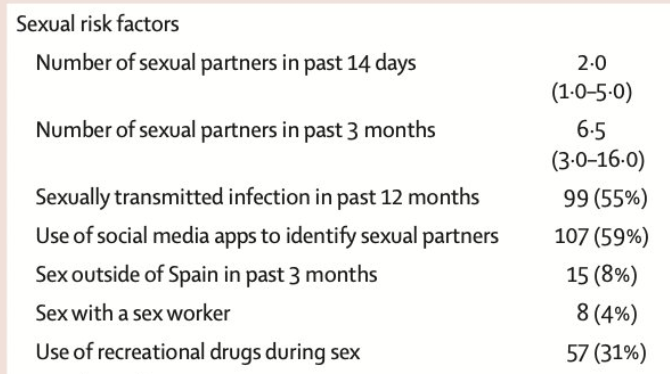 Source: The Lancet
"Time to Move to Russia!"
When I first saw this, I assumed it was a spoof or troll, but here it is on the Euronews channel, a genuine broadcast network, credited to the Russian embassy, and with the network's logo at the end.
Should "No cancel culture" be "Novichok cancel culture"?
Why was "Beautiful women" introduced with footage of two very underage girls?
We have to love that Russian sense of humor! And as they say, the best humor is based on a spark of truth.
The report, released by the commission Monday, details how it reached the name Fort Liberty; provided a short list of 11 names that were considered; and that it would cost $6.37 million to change signs, buildings, and assets around the post commemorating the confederacy.
What about other costs such as changing database entries, maps…?
San Francisco: declare emergency, and lose control
contact tracing could be difficult in some cases because those infected with monkeypox may be hesitant to reveal their sexual partners to public health officials, some individuals may not know the actual identities of the people they are having sex with and public health departments already lack resources in light of the ongoing COVID pandemic.
It's the stage 3 of the four-stage strategy: