Find all the lies/errors:
I found this thread quite illuminating about the state of the world (and I think @jabowery might have some thoughts about it):
Communicating economic models:
Here's Peter Norvig, the director of Google's search quality, doing some interactive economic models:
Now remember, being correct and searching for the correct answer are considered white supremacy now John.
For current approaches to generations of extralegal force (which are far from the only kind throughout history ref Lao Tsu for the value of subversion) I generally rely on John Robb's analyses, although he's been straying recently into large scale social dynamics behind military violence (ref "Swarms vs Nukes"). But one thing is clear about property values and the emergence of extralegal enforcement of property rights (up to and including capital punishment when places like LA can't punish property-value denuding crime anymore):
So long as the Feds are fearful of non-elite (e.g. "working class") heterosexual white men, they will impose the full power of the Federal government against any extralegal protection that is under the authority of those men. That this then empowers what Tom Wolfe called the "maumauing" factions to further extort from property owners in the guise of extralegal property rights protection is what happens when you no longer have northern barbarians to call in as your mercenaries, and must rely on southern barbarian mercenaries.
The reason I advocate militia.money is not because I'm unaware of this artificial selection regime favoring maumauing militias – but because the electrical grids present a technical challenge that the Feds are simply unable to deal with. When they go down, the Feds go down and when that happens people will be begging for all those "lazy stupid young white men with their video games" to take payment from property owners, rather than paying the relatively disciplined southern barbarian gangs (cartels). Too many people know too much about Mexico and other parts of the world, like South Africa.
Amusing how the cartridge left the gun in the same direction as the bullet.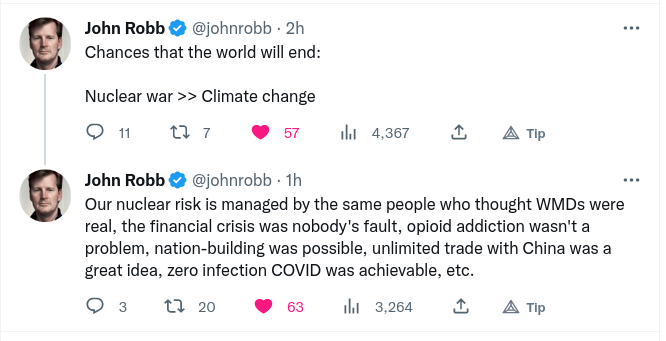 Dr Fatima Cody Stanford is an associate professor of medicine and pediatrics at Harvard Medical School and director of the National Institutes of Health Nutrition Obesity Research Center (NORC) working group on workforce diversity.
Here is Dr Stanford in a 60 Minutes segment broadcast on 2023-01-01 expounding to news reader Leslie Stahl on the causes of obesity.
"The number one cause of obesity is genetics. That is, if you were born to parents who have obesity, you have a fifty to eighty percent likelihood of having the disease yourself, even with optimal diet, exercise, sleep management, stress management."
In the reaction shots, Stahl looks like she's sucking on a lemon hearing this.
Here is a chart, based upon World Health Organisation data, of the prevalence of obesity among adults in the United States from 1975 through 2016.

So, this must mean, based upon obesity's "number one cause", that over a period of four decades, the genetics of the U.S. population has changed so that the fraction of obese adults has tripled. And who said human evolution has ceased!
Pay no attention to the "Food Compass" and other dietary recommendations of "experts"—nothing to see there….
I submit an anti-genetic factor. I knew a family where the wife had very high metabolism and loved to cook. Husband and kids likely had normal metabolism but got obese. When son went off to college he lost a freshman 15.
It is OK for random individuals to have strange views which apparently contradict accepted "facts". That is true diversity, and occasionally one of those wild & crazy people will be a Copernicus or a Galisteo – to the great benefit of the whole human race.
But when people who can exert great influence on the direction of research spending hold ideas which are obviously bunk – that is dangerous. That way lies the AIDS-Scam, the Covid-Scam, the Climate Change Scam.
Science is broken. And we are all suffering because of it.
Wrong!! The number one cause of obesity is sugar!! And here in the US we put sugar in everything, including Chex mix! It's fructose corn syrup that is in everything and that is where the sugar comes from.
Natural stupidity v. artificial intelligence:
Aw, darn. V97.33XD is for subsequent clinical visits from any jet engine encounter, not for being sucked in more than once, something else that the media got wrong. The first visit is V97.33XA and I'm guessing the worker didn't qualify for that either. I couldn't find the ICD-10 code for death from being sucked into a jet engine but it's there somewhere.
Today he'd get a Y99.1 (military activity) code added to V97.33XA and multiple V97.33XD encounters. Fortunately I avoided billing, other than one project to verify that our charting software vendor had properly converted our ICD-9 codes to the corresponding ICD-10 codes. It was my last employment task, done remotely about 6 months after an I49.6 at work let me know it was time to pack it in and do office work.