Several posts here have discussed the "environmental, social, and corporate governance" (ESG) fad, in which companies are supposed to engage in Maoist-style self-criticism and produce reports about all of the things they are doing apart from, you know, actually making money. Investors are encouraged to shun companies with non-sterling ESG ratings, and fund managers over 600 mutual and exchange-traded funds which claim to invest only in securities of these "socially responsible" firms.
As with most forms of virtue signalling, this hasn't worked out all that well for those who indulge in it. Here is a memorable ESG report from November 2021 by that well known and now even better known former Swiss bank Credit Suisse, which I wrote about on 2021-11-18 in "Here's Your Sustainable Life, Serf". On 2022-06-02, I described in a comment on the post "Here Is Your "Absolute Zero" Future, Serf" the 83 page ESG report issued by the company I founded in 1982, and on 2022-07-24, in a comment on the post "On Bullshit in Investing", I featured a cover from The Economist illustrating growing dissent from ESG as a criterion for investing. It appears ESG investing is no longer the Current Thing.
Well, not to worry, there's always another Current Thing coming down the sewer in your direction. How about the "Corporate Equality Index" (CEI), which is compiled by something that calls itself the "Human Rights Campaign" (HRC), a Soros-funded group that promotes a rainbow of dissent from the biology of sex and reproduction which have served the human and other mammal species for more than 300 million years, proclaiming the "Corporate Equality Index is the national benchmarking tool on corporate policies, practices and benefits pertinent to lesbian, gay, bisexual, transgender and queer employees"?
The New York Post reports on the CEI in the 2023-04-07 article:
Executives at companies like Nike, Anheuser-Busch and Kate Spade, whose brand endorsements have turned controversial trans influencer Dylan Mulvaney into today's woke "It girl," aren't just virtue signaling.

They're handing out lucrative deals to what were once considered fringe celebrities because they have to — or risk failing an all-important social credit score that could make or break their businesses.

At stake is their Corporate Equality Index — or CEI — score, which is overseen by the Human Rights Campaign, the largest LGBTQ+ political lobbying group in the world.

HRC, which has received millions from George Soros' Open Society Foundation among others, issues report cards for America's biggest corporations via the CEI: awarding or subtracting points for how well companies adhere to what HRC calls its "rating criteria."
CEI scores are computed according to the "2023 Corporate Equality Index Criteria", which are summarised in the following Post table.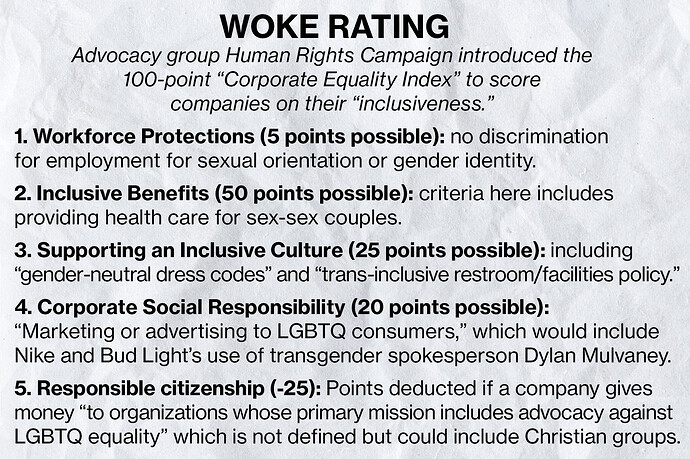 A total of 533 companies have joined HRC's "
Business Coalition for the Equality Act
", which "support[s] the
Equality Act
, federal legislation that would provide the same basic protections to LGBTQ people as are provided to other protected groups under federal law."
In the "Corporate Equality Index 2022" report, a total of 842 employers received a perfect score of 100 and were named as "Best Places to Work for LGBTQ+ Equality". Notable companies who achieved the coveted score of 100 include:
Here is the complete list of CEI scores for 2022 [PDF], in case you'd like to check out your employer or investments.