I have written elsewhere that after reviewing several of the "Equity Action Plans" published by U.S. agencies, I'm beginning to suspect that "underserved" and "disinformation" may be leading candidates to become the next Current Thing.
No sooner did I write that but former U.S. president Barack Obama strode onto a stage at Stanford University to deliver the keynote address at a conference on "Challenges to Democracy in the Digital Information Realm" at the Stanford Cyber Policy Center. (As I noted on Twitter on 2021-06-29, 'To appreciate how stupid people who say "cyber" sound to those who know anything about computers, replace "cyber" everywhere with "goober". "Deputy assistant administrator for goobersecurity", for example.').
Well, if you want to test your endurance and tolerance for bafflegab, here is the full Obama appearance at the Stanford Gooberfest. Or, just scroll down and continue after the video embed.
As an aid to comprehension, Max Meyer has posted a glossary of terms from Obama's speech and translations of selected passages on Substack, "President Democracy Visits Stanford, Demands Censorship".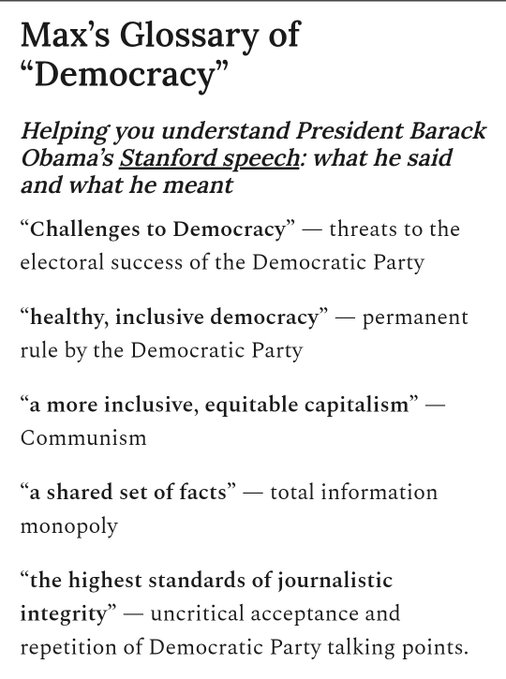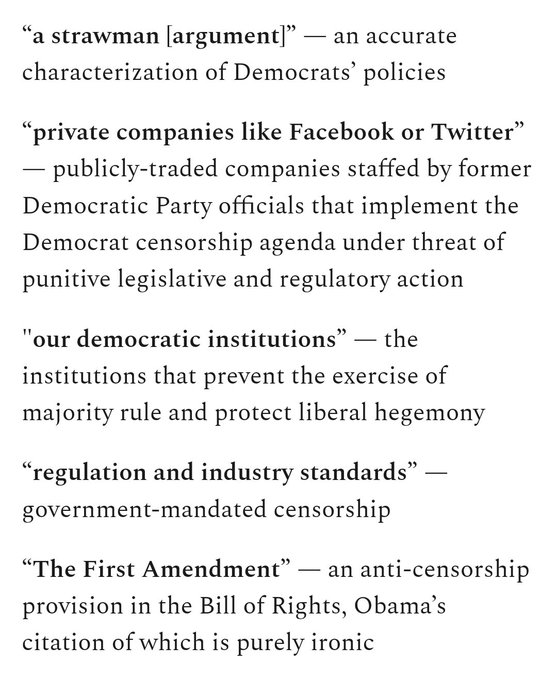 Some selected translations:
"New technologies are already challenging the way we regulate currency, how we keep consumers safe from fraud."

Translation: "We are going to attempt to confiscate your cryptocurrency because it protects you from government control, i.e. us."

Fortunately, I am convinced that it is possible to preserve the transformative power and promise of the open internet, while at least mitigating the worst of its harms. And I believe that those of you in the tech community, soon to be in the tech community, not just its corporate leaders, but employees at every level have to be part of the solution.

Translation: "We can preserve the illusion of Internet freedom for most people while actively censoring and suppressing the most effective dissent against our rule. You, the academic and technological elite, will be integral in this effort."

[A]ny rules we come up with to govern the distribution of content on the Internet will involve value judgments. None of us are perfectly objective. What we consider unshakeable truth today may prove to be totally wrong tomorrow. But that doesn't mean some things aren't truer than others or that we can't draw lines between opinions, facts, honest mistakes, intentional deceptions.

Translation: "Even if we aren't sure what the facts are, we will censor based on instinct."

We do expect these companies to affirm the importance of our democratic institutions, not dismiss them, and to work to find the right combination of regulation and industry standards that will make democracy stronger.

Translation: "We will deputize social media corporations to implement government policies that don't pass constitutional muster. Neutrality is not an option."