On 2023-08-26, Elon Musk live streamed a 45 minute drive in his personal Tesla Model S driving on the streets of California's San Francisco Peninsula. The car was equipped with "Hardware 3", not the upgraded "Hardware 4" recently released, with a faster computer and improved cameras. The Full Self Driving software was the forthcoming version 12 (FSD V12), in which all of the previously hand-coded behaviour has been replaced entirely with neural networks trained from video of humans driving and synthetic imagery—"nothing but nets". In the video he says:
There's over 300,000 lines of C++ [code] in the exclusive control stack of version 11, and there's basically none of that in version 12.
During the drive, he observes that when it slows down for speed bumps, it's because that's what vehicles which it observed in training do, not because there's any code that identifies speed bumps. Similarly, for road signs, "It can read signs without ever being told to read"—in other words, it observes drivers' reaction upon encountering a given kind of sign and learns to emulate it without knowing, for example, the semantic meaning of "Stop". (This may land Tesla back in hot water with the Safetyland Traffic Nazis, since what it learned to do upon encountering a stop sign is a "California creep" without ever coming to a full stop, behaviour which provoked an earlier recall of a prior version of the Full Self Driving software.)
The video above is an analysis of the demo drive by YouTuber "AI DRIVR" with excerpts from the full video. The video below is a YouTube transcription of the full demo drive (which can only be viewed on 𝕏, not embedded here), slightly edited by Tesla Oracle to improve audio and remove irrelevant material.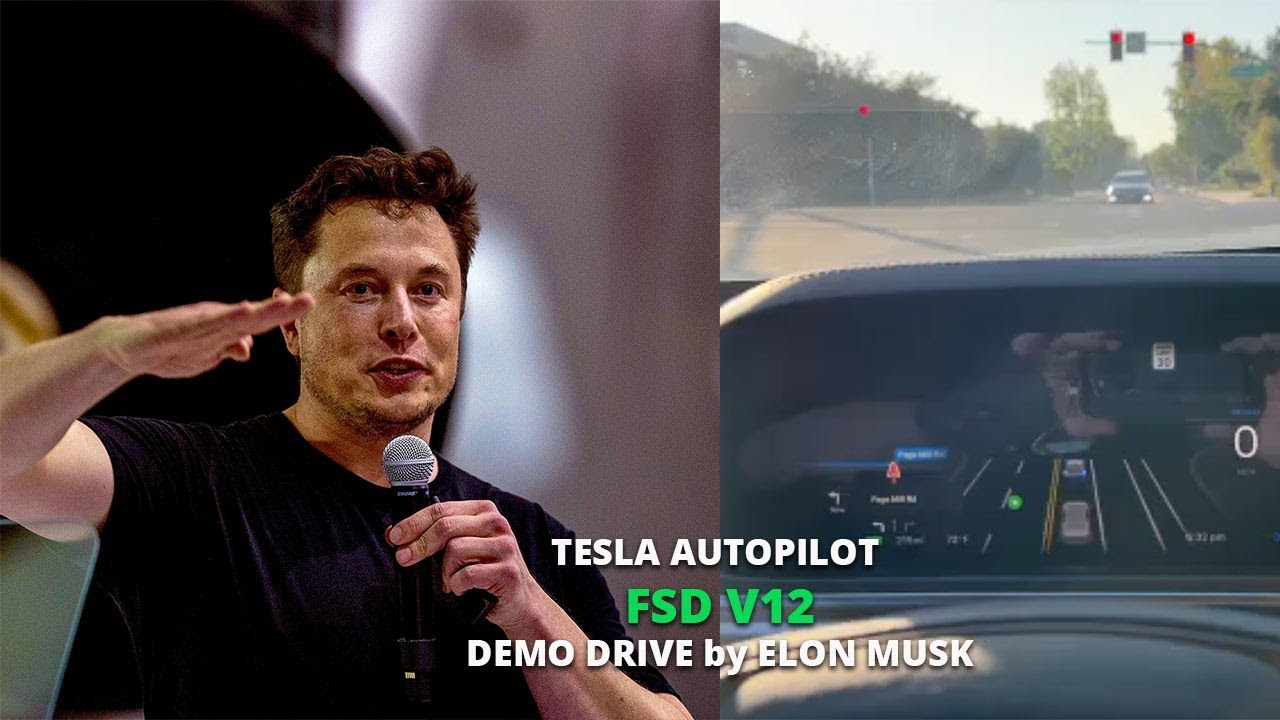 Here is Tesla Oracle's background on FSD V12, its development and testing status, and analysis of the demo video.
Elon musk claims that the V12 software is able to navigate areas which have not been mapped and it has never seen before, and do so entirely autonomously, without online access to Internet resources.
The other voice you'll hear in the video is Ashok Elluswamy, Tesla director of Autopilot software, sitting in the passenger seat. Elluswamy testified in a 2018 deposition that (quoting the Reuters article below):
A 2016 video that Tesla used to promote its self-driving technology was staged to show capabilities like stopping at a red light and accelerating at a green light that the system did not have, according to testimony by a senior engineer.

The video, which remains archived on Tesla's website, was released in October 2016 and promoted on Twitter by Chief Executive Elon Musk as evidence that "Tesla drives itself."

But the Model X was not driving itself with technology Tesla had deployed, Ashok Elluswamy, director of Autopilot software at Tesla, said in the transcript of a July deposition taken as evidence in a lawsuit against Tesla for a 2018 fatal crash involving a former Apple engineer.

The previously unreported testimony by Elluswamy represents the first time a Tesla employee has confirmed and detailed how the video was produced.

The video carries a tagline saying: "The person in the driver's seat is only there for legal reasons. He is not doing anything. The car is driving itself."

⋮

To create the video, the Tesla used 3D mapping on a predetermined route from a house in Menlo Park, California, to Tesla's then-headquarters in Palo Alto, he said.

Drivers intervened to take control in test runs, he said. When trying to show the Model X could park itself with no driver, a test car crashed into a fence in Tesla's parking lot, he said.

"The intent of the video was not to accurately portray what was available for customers in 2016. It was to portray what was possible to build into the system," Elluswamy said, according to a transcript of his testimony seen by Reuters.

When Tesla released the video, Musk tweeted, "Tesla drives itself (no human input at all) thru urban streets to highway to streets, then finds a parking spot."