Hans G. Schantz, author of the Hidden Truth novels and ultrawideband antenna guru, has re-told the story of the Scopes Monkey Trial in the present day and is releasing the story in serial form on his Substack site, one episode per week, as The Wise of Heart. The site, and story, is free to read without a subscription.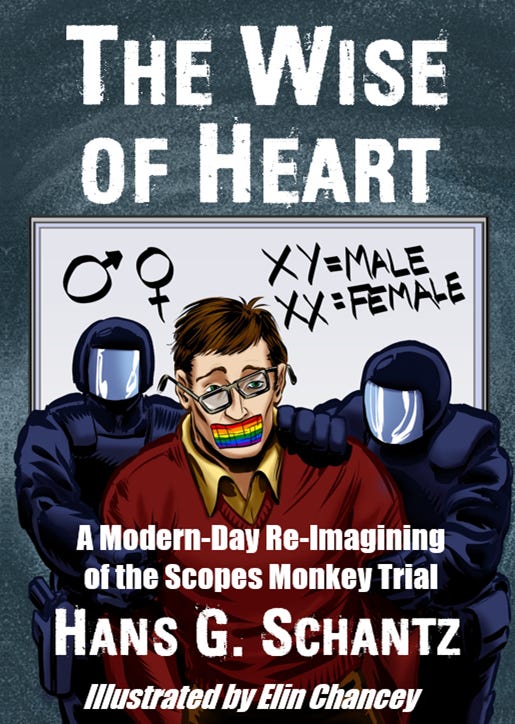 Dr Schantz describes the origin of the story as follows:
One evening in the early summer of 2022, I settled in to watch Inherit the Wind on YouTube. Not the 1960 film starring Spencer Tracy, but rather the 1988 television movie version starring Jason Robards and Kirk Douglas. I got a few minutes into watching it, and I had a sudden epiphany. This would make a great story set in the present day, featuring a high school biology teacher caught up in the transgender craze arrested for teaching the facts of biological science in defiance of a state law requiring unquestioning gender affirmation. I turned off the movie, and instead, I hunted down the transcript for the Scopes Monkey Trial.

And so, The Wise of Heart was born.
Here is the plot summary.
He wanted to test the new Gender Awareness in Academia (GAIA) Act, but high-school biology teacher, Mike Andrews got more than he bargained for.

Arrested and thrown in jail for the crime of teaching the biology of sex determination and for refusing to affirm a student's gender identity, Mike faces a show trial amid a media circus. Who can he trust?

The school superintendent who set him up?
His defense attorney who shares a secret history with the prosecutor?
His girlfriend who may not have his best interests in mind?
Her mother who is out to destroy him?

Mike will have to learn that winning the game sometimes requires writing your own rules, and success comes only to the Wise of Heart.
After the serial release progresses, a crowdfunding campaign will be launched to support print publication of the complete illustrated book. At the present time, you can only read the installments on-line.