Would it be a products liability issue? HAHA!
More Missouri madness:
A famous chimpanzee was found alive in the basement of a Missouri home after its owner faked the primate's death, in an apparent attempt to retain custody, according to court documents.
Wait, I thought employers could not fire striking employees as a matter of federal labor law? So how could they…oh wait, a slug–or whatever the hell it was–is also a fish. I got it now. Good God we are living in the most insane times.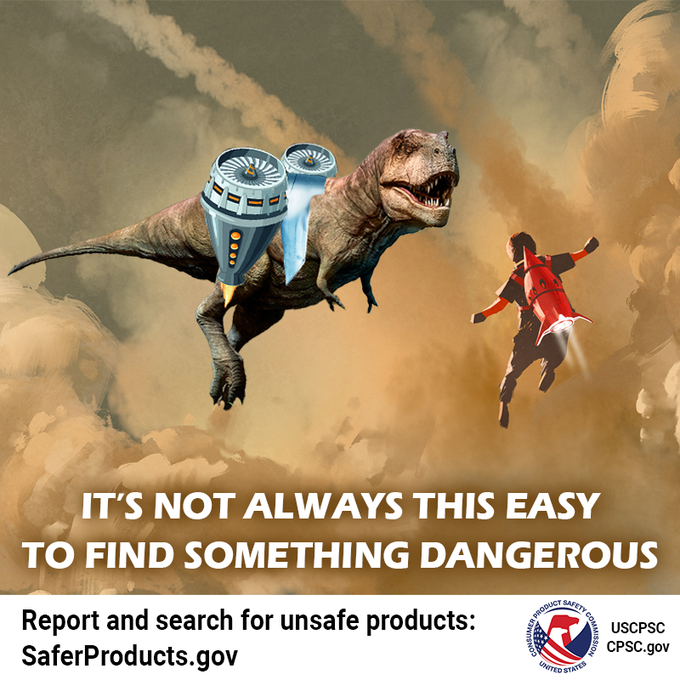 More government lies!!! YOu can plainly see where hte jetpack was photoshopped onto T-Rex in the picture. This is faker than Obama's birth cert. They know that T-Rexes didn't have jet packs, but they don't want to admit because it furthers their lies about fossil fuels and such.
(Make sure to read that in the voice of Alex Jones.)
In comment #37, I wrote about classic young adult fiction hero Tom Swift being "re-imagined" by a third-tier U.S. television network as a "black gay billionaire".
John Carmack, founder of id Software and author of the video game Doom has seen the first episode of the television series and reports as follows.
Or, in other words, by vandalising something generations have found wholesome, optimistic, and entertaining, the destroyers feel superior to the creators and those who enjoyed their work.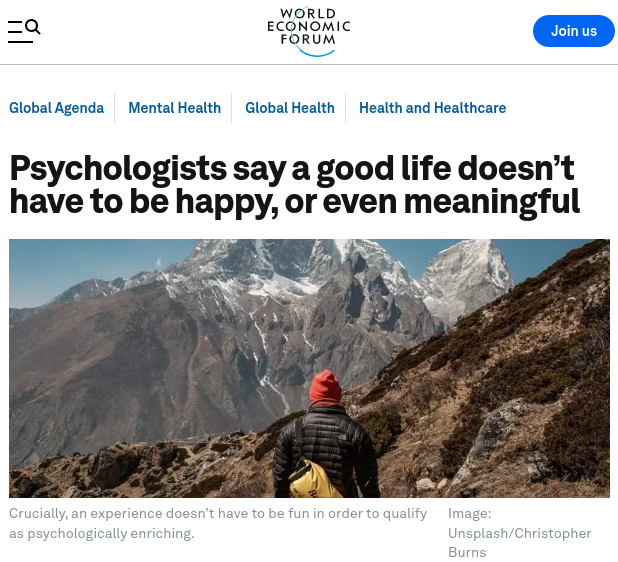 In an article published on their Web site on 2021-08-24, the World Economic Forum, sponsor of the Davos Bond villain meet-up and slaver festival, informs us that "Psychologists say a good life doesn't have to be happy, or even meaningful".
What does a good life look like to you? For some, the phrase may conjure up images of a close-knit family, a steady job, and a Victorian house at the end of a street arched with oak trees. Others may focus on the goal of making a difference in the world, whether by working as a nurse or teacher, volunteering, or pouring their energy into environmental activism.

According to Aristotlean theory, the first kind of life would be classified as "hedonic"—one based on pleasure, comfort, stability, and strong social relationships. The second is "eudaimonic," primarily concerned with the sense of purpose and fulfillment one gets by contributing to the greater good. The ancient Greek philosopher outlined these ideas in his treatise Nicomachean Ethics, and the psychological sciences have pretty much stuck them ever since when discussing the possibilities of what people might want out of their time on Earth.

But a new paper, published in the American Psychological Association's Psychological Review, suggests there's a another way to live a good life. It isn't focused on happiness or purpose, but rather it's a life that's "psychologically rich."
And what makes up this "psychologically rich" life? Well, let's consider what is doesn't need to be.
Crucially, an experience doesn't have to be fun in order to qualify as psychologically enriching. It might even be a hardship. Living through war or a natural disaster might make it hard to feel as though you're living a particularly happy or purposeful life, but you can still come out of the experience with psychological richness. Or you might encounter less dramatic but nonetheless painful events: infertility, chronic illness, unemployment. Regardless of the specifics, you may experience suffering but still find value in how your experience shapes your understanding of yourself and the world around you.
So, serf, while you're shivering in the mandated cold in your pod-apartment, finishing your cold dinner of insect gruel, watching the contrails of your betters' private jets paint the sky, counting the days until your next Universal Basic Income payment arrives, know that your life, while not "happy or even meaningful", is "psychologically rich".
"Drugs and computer games", according to WEF's Yuval Noah Harari:
So, "psychologists say…" means we are supposed to believe that this is a conclusion resulting from rigorous application of the scientific method after careful study and is as applicable as, say, Newton's laws of motion? No? Then surely good enough for (world) government work.
Yeah this guy is freaking evil. I have heard his talk about "hackable animals."
Commencement speech for the class of 2020 by Yuval Noah Harari, originally published in the Wall Street Journal.
This is the 2022 graduation ceremony of the Stanford University Medical School, held outside. All Stanford students are required to be "fully vaccinated" against COVID-19. Every graduate on the stage is wearing a Californian face muzzle.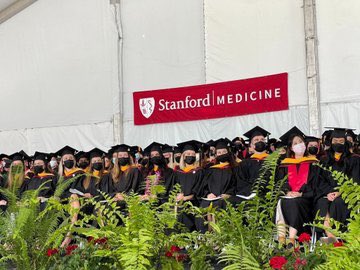 This is a reminder to check the diploma when visiting a new doctor. If it's from one of those coastal indoctrination facilities, you may be better off seeing a doc who graduated from State and spent more time learning medicine than woke dogma, conformity, and obedience to authority.
With the tiny arms that made it such an endearing character for most of us, T-Rex would have a really hard time strapping those jetpacks on anyway…
Reading between the lines of this tweets it seems to me John Carmack found religion in old age. While "offending the easily offended" pour epater les bourgeois was all good fun 30 years ago, it doesn't seem so funny when you find yourself as a member of the "targeted class of people".
If it doesn't come with a NFT, I am not buying it!